Kaffir Lime Crumbed Fish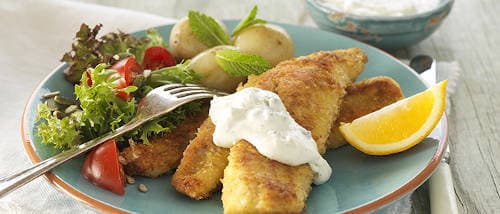 Ingredients
6 to 8 fillets of Fish
4 Bread Crusts
½ Teaspoon Kaffir Lime Zest
1 Tablespoon Kaffir Lime Juice
2 whole Chillies, finely chopped (with seeds)
½ Teaspoon Fennel Seeds, ground
2 Tablespoons Parmesan Cheese, grated
1-2 Tablespoons of Extra Virgin Olive Oil
Dijonaise Mustard
Instructions
Place Bread crusts, Kaffir Lime zest, Lime juice, finely chopped Chillies, ground Fennel Seeds and Parmesan Cheese in food processor and blend together.
Slowly add Olive Oil until mixture starts to form lumps.
Spread Dijonaise Mustard over fish fillets.
Spread crumb mixture over Dijonaise Mustard.
Bake at 180°C, until fish is almost cooked.
Grill until crumb mixture is golden and crispy.
Thai Pumpkin, Chickpea, and Coconut Curry With Kaffir Lime Leaves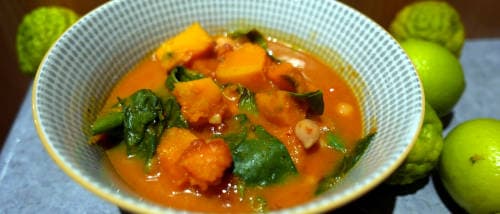 Ingredients
1kg pumpkin or butternut squash, peeled, seeded and cubed
7 cardamon pods, seeds removed and crushed
2 Teaspoons fresh ginger
4 large cloves of garlic, crushed
3 teaspoons ground coriander
½ teaspoon tumeric
1 cup tomato pulp
1 cup coconut cream
1½ cups of water
2 tablespoons Sweet Chili & Kaffir Lime Sauce
1 cup cooked chickpeas
1 handful of fresh spinach, torn
1 handful of fresh basil
1 teaspoon sea salt
Black pepper to taste
Instructions
Bake pumpkin/squash in 220° oven until tender (approx. 35 minutes).
Meanwhile, put all other ingredients into pot except the spinach, basil, and chickpeas.
Gently simmer over low heat for 20 minutes.
Add the chickpeas and turn off the heat.
Remove the kaffir lime leaves.
Add the cooked pumpkin/squash and spinach, and mix.
Add a little more water if the mixture is too thick.
Garnish with basil and serve with rice (optional).
Autumn Fruit Crumble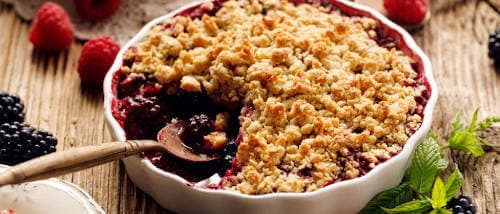 Ingredients
6 stalks Rhubarb, chopped into 1cm slices
4 Feijoas, peeled and chopped into slices
2 Apples, peeled, cored and chopped into slices
¾ Cup Flour
¾ Cup Rolled Oats
¾ Cup Coconut
¾ Cup Brown Sugar
½ Teaspoon Cinnamon
½ Teaspoon Nutmeg
½ Teaspoon Allspice
150g Butter, melted
Instructions
Put Rhubarb, Feijoas, and Apples into a 1.5 litre capacity microwave proof bowl.
Add Sugar and stir to coat.
Microwave for 3 minutes, stir then microwave for another 3 minutes.
Combine Flour, Rolled Oats, Coconut, Brown Sugar, Cinnamon, Nutmeg and Allspice in a bowl.
Add melted Butter to combine.
Spread crumble topping evenly over mixture.
Microwave for another 3 minutes.
Grill in oven until crumb mixture is crispy.
Feijoa Loaf or Muffins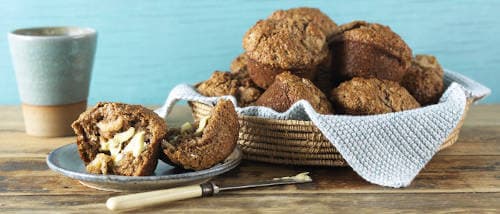 Ingredients
1 Cup Feijoas, peeled and chopped
1 Cup Water, boiling
1 Cup Sugar
50g Butter
1 Egg
2 Cups Flour
4 Teaspoons Baking Powder
1 Teaspoon Baking Soda
Instructions
Put Feijoas, Water, Sugar and Butter into a fairly large saucepan and bring to the boil, then simmer for about 5 minutes.
Let mixture cool down until it is warm.
Beat in Egg, Flour, Baking Powder and Baking Soda.
Pour into a loaf tin or muffin pans.
Bake at 180°C for 40 to 50 minutes for the loaf or 15 to 20 minutes for the muffins.